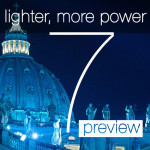 When the first Signature Gag came out and changed everyone's SL experience with Air-Rez, it required something like a 7-step set up.
With the Signature Cuffs, it got reduced, but the poor subbie had to set up each individual Cuff plus key.
With the Signature Collar, that got reduced further as there was no need to set up the key.
And now, with HUD7…
No more setting up all your LULU Cuffs, Collar or Gag. They'll all there, ready, in the one HUD.
Even better, no need to transfer anything from one HUD to another. Just wear the one HUD, activate it, and you're good to go!