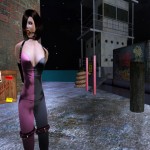 We have a new Top Gagette!
Alisa Menna, not contented with being the second avie to become First Slave x 6, has spent 417 hrs 33 mins in gagged exile to race past friskie Quintessa, who had held the top spot since March 2010 at 382 hrs 20 mins.
Alisa posted this:
i was using the menu of a person's cuffs when the Lulu AFK check menu dropped down just as i clicked a button..

Below is a photo of the scoreboard.

i'm number one.. which is what Rita and i wanted. Although i was hoping for at least 500hrs.

i'm a little disappointed.. but i am #1 after all =)

The board doesn't update until a person's trial ends so..

Whether or not Rita removes my gag or decides that i should do it again is entirely up to Her."
Well done Alisa! Alisa gains a "Top Gagette" title in the Lulu's Designer Club group, and a free LULU Signature Collar (when it's out).
You can follow Alisa on Twitter at @alisamenna .
xo <3,
Lulu