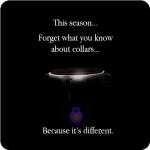 (Click image to enlarge)
For the longest time, I have not made a collar, because there've been so many competent ones already made by competent people, and frankly, I didn't have anything fresh to say. Until now, that is.
The collar is one of the first gear that every bondage maker makes. Because every sub or slave needs one. But as more and more players entered the game, some giving away free scripts, trying to top each other with features, we've seen something weird happen as a whole.
The SL collar has slowly become more of a utility device – little more than a repository of anims and an AO, with leashing functions built in. Oh, and ubiquitous RLV functions, with cage rezzers, TP buttons and so on. Today, we accept that this is what a collar should be.
But… hang on…
With the exception of leashing, what do any of these have to do with a collar? Really?
I've always held the belief that it is the cuffs, not the collar, that should allow an owner or Dom to "tie up" the poor sub or slave into position. Hence, the LULU PLUS Cuffs, and later the Signature Cuffs, were the first of its kind in SL, providing unprecedented bondage positions, pose-by-pose.
So, expect that the upcoming LULU Signature Collar will not be anything like what you are used to. It will be different.
(More Sneak Peeks soon.)   Next Sneak Peek here.
♡
Lulu