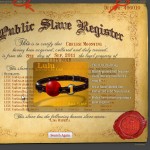 Your LULU Collar comes with a gorgeous Ownership Deed pre-filled with all sorts of details. Side tip: hover over various texts and things!
Main tip: did you know you can edit some of the details? 
Some bits can only be edited by the sub (e.g. sub-friends) whereas other parts can only be changed by the sub's owner (e.g. text regarding being "duly trained"). 
Before you can edit, you need to sign up (top left hand corner), and follow instructions to confirm your account at the payphone in City Noir.
Once that is out of the way, sign in and the "EDIT" option will be available to you. (Click image in post to see what I mean.)
More about the LULU Collar here.
♡
Lulu