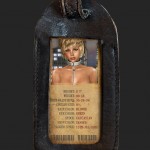 One of the the most amazing things about the LULU Collar is also one of the hardest to find – your very own Pet/Slave Tag!
See a demo of Chrissi's Pet/Slave Tag here.
How to see yours? Just click the Pet/Slave Tag on your collar inworld! Anyone can click it and see the details.
The bio-data's customizable – some are only editable by the Owner, and some are only edited by the pet. No owner? Then set yourself as Owner temporarily to edit.
More about the LULU Collar here.
♡
Lulu