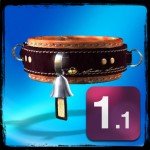 Collar v1.1.39 addresses the security check failure, and some bugfixes.
Got the steel collar? Click your bell for something new!
Leash Rings: Owners' arms will no longer animate when seated.
Get yours now, at the Update Switch!
♡
Lulu
---
Change Log:
Leash Ring: No more arm anims when owner is seated.
Bugfixes:
fixed security check failure when when locked, after tp or log in.
fixed gender issue with bell
fixed steel collar missing bell-click responses.
shortcuts like "/1ja." work again.
minor bugfixes, smoother.
uHUD v1.1.8:
Minor bugfixes (No more multiple "can't detach uHUD unless following are unlocked…" messages.)