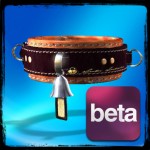 This Beta refresh (HUD v6.3.22):
allows Owners to force-TP their subs using the Leash Ring again (broken in earlier beta versions). Thanks Matrino Breen, for reporting this.
If you're upgrading from the previous beta, you can just:
click the HUD LULU Logo > HELP… > New HUD…
wear the HUD and "transfer" as the Collar version is still v1.1.40.
If you're upgrading from the official release, you'll need to set up your Collar. You'll also get these fixes from the previous beta:
can't leash to anything, missing padded leather (caused by "discreet mode")
gag RLV options  "24-character" limit bug.
some transfer, re-setup issues.
leashing and unleashing emote issues.
How to get your BETA:
Just go to the Update Switch, and get your collar – you will be offered a beta version (if available).
More about BETAs here.
♥
Lulu