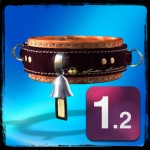 The Signature Collar and Cuffs have gone off Beta and are now on General Release.
Signature Collar enhancements include improved Force-TP, LeashMe, Pet-Crawl, "?" button, emote texts and more.  See here for details.
Oh, there's an enhanced Utility HUD v1.2 in the box too, with new AO features, new lock clothes/attachments, owner overwrite features, persistent settings, and improved shared folders, strip clothes/attachments, "?" button, and more.
Signature Cuff enhancements include improved menus, discreet mode, and various bugfixes. See here for more.
Oh, and this update fixes the "invalid force" and "can't attach because already attached" SL errors introduced with recent SL updates. 
How to Update
If you already have the beta HUD v6.3.30 you don't have to do a thing if you don't wish to – everything's the same except the beta HUD has the words "BETA" on them. If that bothers you, just get the new HUD and transfer everything over.
Update instructions here.
Thanks to those who participated in the BETA, and who submitted bug reports. 
♥
Lulu