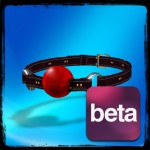 What's new:
Besides bringing several HUD improvements, this beta release:
– has the workaround for recent SL errors like "invalid force" and "attach failed because already attached".
– has an improved menu system. 
This beta gag joins the beta collar and beta cuff releases.  All beta Signature gear now have the improved menu system that link from the gear menu back to the HUD and vice versa. They also all fix the SL errors mentioned earlier.
So if you haven't tried the other betas, maybe it's time to give it a shot.
♥
Lulu