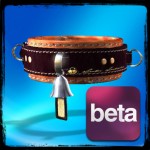 The LULU Collar v1.2 beta is out!
Lots of goodies in this one…
IMPROVED Force-TP revamp: 
– faster, smoother performance all round.
– knows faster when sub is offline.
– same behavior whether you click the ring, wear the ring, or rez the ring… offers to summon pet if she's online.
– option to stand or pet-crawl right after force-TP (in settings).
IMPROVED LeashMe: now you can choose which leash to unleash, if multiple leashes are active.
IMPROVED HUD's @Lulu button: 

improved contact form with quick answers.

IMPROVED Pet Crawl: if seated, will now unsit automatically (with RLV on) instead of failing.
IMPROVED ? button: improved context-sensitive help
IMPROVED emote texts.
IMPROVED Will automatically override Firestorm AO when in pet-crawl (and other similar anims).
IMPROVED Allows transfer from BETA HUD to General Release HUDs.
FIXED error messages from recent SL sim changes:
– "Invalid force in llApplyAngularImpulse"
– "Attach failed because object already attached"
FIXED Gag Circle incorrectly shown on first-wear. See http://lu2.me/152402
Various bugfixes.
Get yours now, here's how. 
Remember to get your matching uHUD beta, v1.2
♥
Lulu