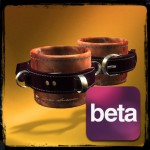 UPDATE3: Cuff HUD refreshed to 6.3.30 due to some SL compile bug in 6.3.29. If you experienced any issues with 6.3.29, just go to HUD Menu > HELP… > New HUD… and then transfer gear over – no need to re-setup. If you're using an older HUD (also your cuffs are not 2.4.8), then you'll need to re-setup.
UPDATE2: Cuffs refreshed to 2.4.8 and HUD is 6.3.29. All is well, update away!
EDIT: I'm pausing the beta cuffs for a bit whilst I investigate some bug reports by (thanks, Tirsa Arnadóttir, great job on the quick reports!) 
This beta has the workaround for that pesky SL 'invalid force' error spam. The Gag will still show up the otherwise harmless error, and I'm working on the next update.
And various improvements and bugfixes.
This update will require a full setup. If you have arm and thigh cuffs:
1. Set up the wrists and ankles first.
2. Wear the arm and thigh activators separately and set them up too.
Enjoy!
♥
Lulu