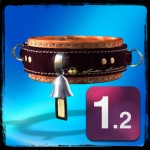 Collar HUD has been refreshed to 6.3.34
What's new:
Fixes Collar button not able to call up collar menu
Thanks Azrael Coeyman for reporting this!
How to update
If you've got yesterday's or the beta version (vHUD6.3.33), just click the LULU logo: HUD Menu > HELP… > New HUD… and transfer everything over.
Otherwise, just update and remember to give out new Key Boxes for the new Leash Ring. If your existing collar is already v1.2.0, you don't need to set up anything. At the setup screen, just click 'transfer…' to transfer everything over.
♥
Lulu