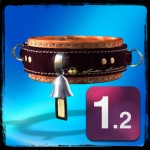 The Beta HUD and uHUD are now live.
What's new:
Leash Ring (v1.1.3) in new Key Box (v1.2.23):
– new settings menu (say /1r* or click and hold) allows it to be hidden while worn or dropped in-world, so you can wear your fav leash-holder over it.
– new command /1r has the same effect as clicking the Leash Ring.
– various bugfixes to the AO, etc.
Full change logs here and here.
How to get yours
If you've got the latest betas (HUD v6.3.33 and uHUD v1.2.4), no need to do anything, they are the same but without the words 'beta'.
Otherwise you can head out to the Secret Warehouse to update.
♥
Lulu