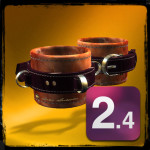 I've updated the beta to v2.4.10, which uses the original v6.3.34 HUD (that comes with the Collar).
This fix is more elegant and less invasive than the 2.4.9 fix which also required a modified HUD. This means it is easier to roll out to the Collar and Gags too.
Please let me know if this beta works for you.
Thanks, Judy Nowles for testing this.
Enjoy!
♥
Lulu