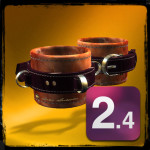 Edit2: I've updated the beta to HUD v6.3.37 (and cuffs 2.4.9). This should fix the issues in the earlier beta release.
Edit: Pre-release testings were fine, but I'm now getting some reports of issues with the leather cuffs, so I'm putting the 2.4.9 back on beta for now. Let me know if you give it a spin and it works/doesn't work for you. Thanks.
 This update fixes the following:
Thanks to Stormy Dench for reporting and testing this.
To get yours, just go to the Update Switch. If you have arm and thigh plugins, remember to use your Activators to get them after you have set up the core cuffs.
♥
Lulu