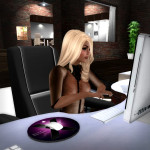 This weekend something happened. Well, the blog went down. Turns out it was due to one of the plugins. A bit of panic, research and debugging later, I managed to fix it.
But the blog now gave up a blank screen instead of the error message. So I upgraded to the latest WordPress version (which I haven't done for a bit).
After a bit of prodding and coddling, the blog finally whirred back to life. Since I had already been sidetracked from my coding project for the day, I decided to go down the 'blog' path and explore what I'd always wanted to do but didn't have time to get started: give the site a makeover.
So what was initially a one hour detour quickly slid down a slippery slope into hours as I tweaked this and that. And that and this. And…
Voilà. Hope you like it!
♥
Lulu
PS. I'm sure I'll find something else to tweak tomorrow.