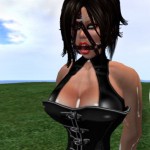 June's turning out to be a great month for First Slave x 6! Meet our latest add: Loom Kish (@LoomKish).
This girl started her first LULU gag trial not long after she joined SecondLife, and finished it soon after.  In fact, her first and second trials were finished a few years ago.  In August last year, she got the itch to do another trial, and in a spending spreee, bought the 4 gags which she had not completed yet.

She has spent the last 10 months gagged – struggling with a need to communicate, SL lag and the boundaries of emote.  That and a burning desire to finish her gag trials – and be allowed to speak again.

Mistress Arcsylver Ember has been an amazing help with the trials, and this girl would never have been able to finish them without her.
This girl is looking for a new challenge now, but fears that she will never find one quite as powerful as the LULU gag trials."
Welcome to First Slave x 6, Loom Kish!
Loom Kish is part of a small select group who have made the journey: Feliciana Zabaleta, Alisa Menna, Lori Claremont, Arcsylver Ember, Katt Darkstone, Kristen Jurado, Omi Navarita and jacqeline Bentham.
xoxo,