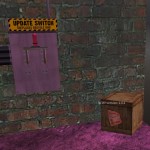 The AO Bridge script 'LULU.aoBridge.lsl' which syncs your AO with LULU Cuffs (and Collar) is now v1.02 v1.03.
It fixes a bug in 1.01 which might cause the script to 'die' upon log in or TP'ing. (Edit: v1.03 fixes a bug in earlier versions that would cause your AO to turn on after the LULU anim, even if it wasn't on in the first place. Now it will only unpause the AO if it was already running initially).
You can get the updated script by clicking the crate beside the Update Switch. Full instructions here.
xoxo,
Lulu