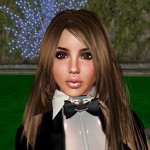 We've been shining the spotlight on all the recent First Slaves x 6, I thought it's time to introduce our very first one – the original First Slave x 6, Feliciana Zabaleta.
When I first did the trials the gags were version 3 and Second Life was far from "stable". In fact I could almost predict when it would crash – at 23 hours, 50 minutes into my last trial. I racked up a lot of hours in quiet solitude pondering whether I would ever achieve my goal of all 6 gags.

Imagine my joy when the day finally came when I made the last First Slave circle! I was thrilled and jumping for joy. And I was the first First Slave x 6!

I can still feel the happiness of anyone who contacts me inworld with the request to join the First Slave group because I know it is not an easy feat. Nowadays you can find me supporting gags and cuffs inworld and taking care of the First Slave group. So feel free to say "Hello" inworld… I am not silent anymore."
Feliciana has said it all :). She is one of our longest-serving LULU Fashionistas, and is a "herder" in the First Slave group (you can contact her to join the group if you are a First Slave on at least one gag).
Well done, Feliciana, it's been a long journey, glad we've been part of yours.
xoxo,
Lulu