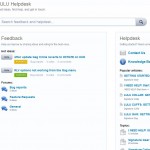 You're invited to check out the new LULU Helpdesk:
From here you can do several things:
getting started: various "Getting Started" articles for the Collar, Cuffs and Gags are there, as well as for Doms and Dommes.
search articles: There are over 70 articles already, and more are being added. This Helpdesk has a faster and better search engine than the older one.
bug reports: If you can consistently reproduce a problem, it's probably a bug. Please tell me the steps that I can do (like step 1, step 2, step 3) to reproduce the particular bug – what you observe (any messages, behavior), and what you expected to observe. And the versions of the HUD and gear.
feature requests: This is your wishing well. I do have a very long do-list, so no promises anything you suggest will even be done at all. I'd rather do a few things right rather than a lot of things half-baked. But it's good to dream, right? And if you like a request, vote for it.
contact Lulu: Finally, if you can't find your answers here, or in-group, you can contact me via the form. If you need me to check your stats and such though, please include your SL name!
Tip: If you post anything, pop over to
http://gravatar.com
 and upload your SL profile pic. That'll show up on the posts.
Summary links:
♥
Lulu