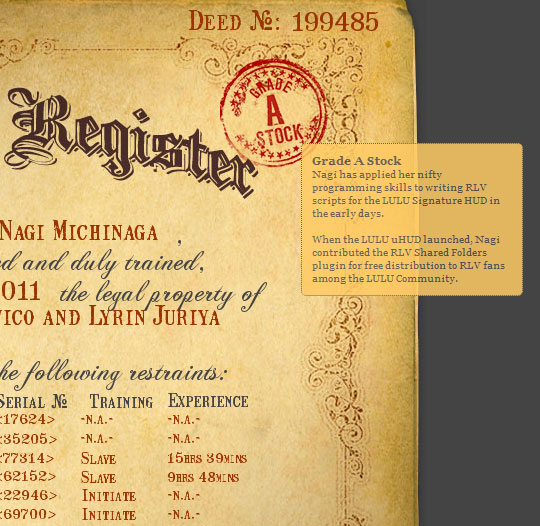 Are you a scripter with devious ideas? You are invited to make the SL bondage scene a better place by sharing your wicked work with the LULU uHUD (Utility HUD) Open Source community project.
The uHUD is a light-weight by powerful HUD with all sorts of useful features like AO, rezzer, poser, LM-buttons, etc.; and general RLV features like Shared Folders, forcesit, strip and such. It is given away free with every LULU Signature Gear purchase (starting with Collar, will be included with future Cuff and Gag updates).
The uHUD comes with an easy developer API for you to add buttons, create multi-page menus, enforce owner-only buttons, re-apply restrictions after reset etc. with minimal coding. The controller script does all the heavy-lifting for you. You just add ideas. Go on, take a look.
So far, the LULU uHUD is brought to you by:
Oh, if you click the the contributors' names, you will see something different about their Ownership Deeds. There's a special Grade-A Stock rubber stamp, and if you hover over it, there's a description of work done.
Ongoing uHUD development for upcoming versions:
Azrael Coeyman: Lock / Unlock Clothes and Attachments with Owner-Only implementation, survives reset.
Nagi Machinaga: AO buttons with sit option.
If you've got what it takes to make SL bondage a better place, you're invited to join the wicked crew. Look forward to hearing from you.
♡
Lulu