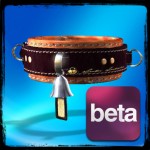 The Signature Collar beta is out now.
It has a few fixes, including:
can't leash to anything, missing padded leather (caused by "discreet mode")
gag RLV options  "24-character" limit bug.
How to get your BETA:
Just go to the Update Switch, and get your collar – you will be offered a beta version (if available).
More about BETAs here.
PS. 
This is a  new Beta delivery system, which allows me to get Betas out quicker. These Betas are really Release-Candidates and are good-to-go. If I don't get any serious bug reports after a while, these will be converted to full official releases.
♥
Lulu