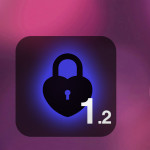 The uHUD (Utility HUD) has been updated to v1.2.7 with a single fix:
Some people have experienced a stack-heap collision error when force-sitting at certain locations. This is due to objects having names that are too long.
Good news, the latest uHUD update  v1.2.7 fixes this.
You can get the new uHUD at the Update Switch ( get a new Collar update and it'll be in the boxed set).
Enjoy!
♥ Lulu