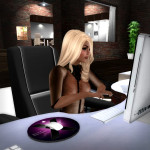 Seems some have missed the in-group announcement by Idris Georgia regarding the Firestorm Beta knocking Cuffs off, so I'm posting this here.
(If you're not in the Lulu's Designer Club already, you can join here)
Firestorm Beta
The current Firestorm Beta 4.7.1.45325 causes Cuffs to drop off or not attach. They also cause attachments to randomly drop off after TP.  The Firestorm team seems to be aware of this.
The workaround is to rez the Cuffs by pairs or one at a time.
To rez by pairs, say:
/1c1 for wrists
/1c2 for ankles
/1c3 for arms
/1c4 for thighs
To rez individually, add r behind for "right", or l for "left, e.g.
/1c1r for right wrist
/1c2l for left ankle and so on.
More details here.
♥ Lulu