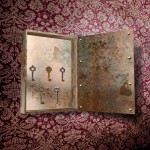 The LULU Key Box. For Owners.
Keys on demand. It gives you the keys to all of your sub's LULU Gear, on demand. When she acquires a new LULU gear (say she just got a new gag), you can just go the Key Box and get the new key. Deleted a key by accident? Just go to the Key Box. No more waiting for sub to be close by to get them.
New key design. The new keys are more ornate than the old set – and there are different designs for gags, leather and padded-steel cuffs respectively.
Clipboard. There's a clipboard on the Key Box. Clicking it brings you to the "Getting Started for Doms" web page – a handy cheat sheet.
Photo. Your sub's photo is on the clipboard, for your viewing pleasure.
Trophy. You even can mount the Key Box on your wall at home. On your trophy wall, of course.
---
How to get yours?
Ask your sub to click the LULU logo on her HUD (must be at least 5.7.1*) and click "new HUD…".  No need to set up if she has the latest cuffs or gags. Just transfer gear over.
You say "/1." and click "take keys". You will be given the Key Box.
Rez it inworld to get keys.
* (Edit: If you have earlier versions, you need to click the Update Switch and set up your cuffs and/or gags).  If you have earlier HUD versions, wait for new gag or cuff updates (when you wear your gag/cuffs), expected about a week later.
---
HUD v6.1.12 what's new:
keyless setup. Gag setups are now 1-step, and cuffs 4-step. No more additional step for key setup. Also saves an additional leash-holder-setup step for the upcoming collar.
improved performance for "IM only" spacial setting.
general bugfixes and improvements.
Enjoy,
Lulu
Thanks to all who tested, especially Idris Georgia, Omi Navarita, Arcsylver Ember, Frank Skosh and Felciana Zabaleta for finding all those naughty bugs!