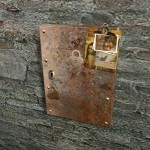 Another view of the new LULU Key Box, closed, on display at home with your sub's photo. On your trophy wall, of course.
Thanks Aishmahradiya Singh, whose Key Box is pictured here (click for larger view).
Owners need to "take keys" from sub's HUD (v6.1.12 onwards) after saying "/1." to get the menu, or sub can "offer keys" from the HUD menu (click LULU logo).
xoxo,
Lulu
---
To get yours
Ask your sub to click the LULU logo on her HUD (must be at least 5.7.1*) and click "new HUD…".  No need to set up if she has the latest cuffs or gags. Just transfer gear over.
You say "/1." and click "take keys". You will be given the Key Box.
Rez it inworld to get keys.
* If you have earlier versions, you need to click the Update Switch and set up your cuffs and/or gags.