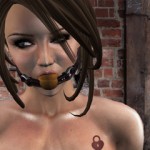 What's new:
Change timer after locking: now you can change timer (using the key) after locking (unless you're self-owned/self-locked).
New HUD v.6 design. See here.
Phoenix/SLV2: will not allow more than one gag worn at any one time.
bugfixes, including occasional "floating gag" issue.
Thanks to Idris Georgia for reporting the floating gag issue.
Enjoy!
Lulu